Flying Sculptures
Scholastic Art
January 2000


A person living in 1929 who happened to see a copy of The New Yorker magazine, might have come upon this article:
"Conversation lagging at a dinner party last night, Mr. Alexander Calder of Philadelphia Pennsylvania, amused his table companions by making a chicken out of a piece of bread and a hairpin."
This was probably an unconventional and newsworthy event for people who were in the habit of going to elegant restaurants in the 1920s. But it was hardly unusual conduct for Calder. He was known for his spontaneous and colorful behavior. And making sculptures out of the nearest materials wherever he happened to be was a lifelong habit. It is no surprise that when he saw a piece of bread and a bit of wire , he chose to make a bird. Many of the sculptures Calder created throughout his career were based on living organisms — plants, snakes, elephants, spiders, underwater creatures. He once said, "To keep one's art young, one must imitate young animals. What do they do? They play."
By looking at Calder's works here and on the next ... pages, can you tell what animals they might be based on? Sometimes you have to read the title to figure out the natural force or object on which the sculpture is based. The four shown here are called Hen, Big Bird, Blue Feather, and Flamingo. They are made from different materials; each exemplifies a major sculptural form developed by Calder. But their simplified, abstracted, organic shapes are typical of all Calder's work.
Hen is made of four small pieces of wood (Calder liked to use natural shapes with very little carving). The sculpture is small, solid, abstracted, but clearly meant to be a bird.
Big Bird is an example of a stabile — a mobilelike form that stands on the ground and does not move. This work is eight feet tall; it towers over an ordinary person. Its body and wings are made from two large flat pieces of sheet metal. Each flat plane points in a different direction and the planes intersect at several points.
The shapes in Blue Feather have been so abstracted that, instead of literally depicting a bird, the piece suggests natural concepts such as floating, soaring wind, wings, feathers, clouds. Blue Feather combines Calder's two most important inventions — the mobile and the stabile. The interconnected lines and positive shapes in the piece interact with the negative spaces around them. The upper portion of the sculpture moves, causing the work to change from minute to minute.
Later in his career, Calder began making enormous public sculptures. Flamingo is a 30-ton, six-story-high stabile, built in the center of a busy plaza in Chicago. In spite of its size, Flamingo has many of the same qualities as other Calder sculptures. It is a simple abstraction, based on the intersection of flat, opposing planes. Flamingo is made up almost entirely of angular shapes. This work also captures the qualities of a creature of the natural world, an awkward red flamingo, its head buried in water.
Over his 60-year career, in addition to his sculptures, Calder created thousands of drawings, toys, jewelry, tapestries, and paintings. His work is exhibited all over the world. Calder died in New York in 1976.
---
Article © Scholastic Corp. Reproduced with permission of the copyright owner. Further reproduction or distribution is prohibited without permission.




G A L L E R Y
Click on the images below for a larger view and for more information about each work.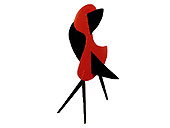 Big Bird, c. 1937 [more]



Hen, c. 1944 [more]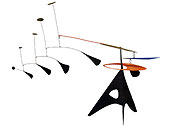 Blue Feather, c. 1948 [more]



Flamingo, c. 1973 [more]
All images © 2002 Estate of Alexander Calder / Artists Rights Society (ARS), New York. Reproduced with permission of the copyright owner. Further reproduction or distribution is prohibited without permission.