Lunar Cycle

Throughout history people have observed and tracked the phases of the Moon as a means of measuring time. The word "month" comes from observing how long it takes for the Moon to grow from a thin crescent until its surface is completely illuminated, and then shrink again until the Moon is no longer visible in the sky. It takes the Moon 29.5 days to complete this cycle until a thin waxing crescent Moon reappears. This is known as the lunar month.
The amount of Sunlight the Moon reflects is determined by the Moon's position relative to the Earth and Sun. When the whole surface of the Moon as seen from Earth is illuminated, the Moon is at its Full Moon phase. This happens when the Moon and Sun are on opposite sides of Earth. When the Moon is on the same side of the sky as the Sun, we call that the New Moon phase. We cannot see a new Moon because the side of the Moon that is illuminated by the Sun faces away from Earth.
Between the New and Full Moon phases are the crescent, half Moon and gibbous phases. A crescent is the phase of the Moon when less than half Moon is illuminated. A gibbous phase is the phase of the Moon when more than half is illuminated. When the Moon appears to grow from new to full, then the phasesare called waxing (waxing crescent, waxing gibbous). When the Moon appears to shrink from full to new, the phases are called waning (waning crescent, waning gibbous).
« previous 2 of 3 next »





G A L L E R Y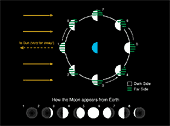 See the Moon's phases. [enlarge]
M O R E
Learn more about how the following cultures have used the lunar cycle to keep time:

M O R E


Learn more about the moon's phases at the Adler Planetarium and Astronomy Museum.