Aurorae
The Sun creates a phenomenon called the solar wind. The solar wind is a stream of tiny particles called electrons and protons that escape from the surface of the Sun. These particles flow in streams away from the Sun. When the solar wind passes by the Earth, the particles react with the Earth's magnetic field.
Sometimes, the Sun emits more particles than normal. When this Sun does this it is called a solar storm. When a large stream of these particles comes into contact with the Earth's magnetic field, many of the particles become trapped and are forced to enter the Earth's atmosphere at the North and South Poles.
When the particles enter the atmosphere, they react with the gases in the atmosphere to produce auroral displays of green, pink and red in the sky. Particles that hit oxygen produce green; particles that hit nitrogen produce pink; particles that hit ozone, a rare form of oxygen, produce a deep red.
This phenomenon is also known as the Northern Lights or Aurora Borealis when it occurs at the North Pole and the Southern Lights or Aurora Australis when it occurs at the South Pole.
« previous 3 of 3





G A L L E R Y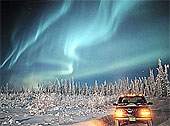 Take a look at these amazing pictures of different Aurorae. [enlarge]
M O R E
The Aurora Borealis is such a spectacular sight that many cultures living in the far north created myths around the phenomenon including the Inuit and the Vikings.
M O R E
"Far north in the night sky, a faint glow appears on the horizon. Green and red flames of light stretch across the sky. A glowing
curtain of light forms, waving and swirling above you."