Grand Boulevard — Washington Park (continued)
Washington Park
Whereas Grand Boulevard was nearly all built up by the turn of the century. Washington Park experienced sporadic development. The first settlement emerged in the 1870s as railroad workers purchased two-story frame homes which had been built west of State Street and south of 51st Street. The area's principal institution was St. Anne Church at Garfield Boulevard (55th Street) and Wentworth, dedicated in 1880 (See Fig. 1). This working-class district was a stable one, and St. Anne's pastor attributed the prosperity of his parish to the fact that "a larger number of its families own their own homes than is usual."

While the extension of the State Street car line to Englewood and the completion of the "L" sparked residential construction north of Garfield Boulevard, large tracts within Washington Park remained prairie. The Washington Park Club at the east end of the district had once been the meeting place of Chicago's elite. But a betting scandal in 1894 closed the track for three seasons, and the death knell sounded in 1905 when city officials shuttered all Chicago race tracks as a way to curb gambling (See Fig. 2 ). The Washington Park Club disbanded and its putting greens were transplanted to South Shore where they formed the nucleus of South Shore Country Club's golf course.

Although the grounds of the old Washington Park Club and race track were subdivided for apartments, the area retained its reputation as an entertainment district (See Fig. 3). The same excellent transportation facilities which had made the Washington Park Club so attractive to Chicagoans also assured the success of similar ventures. The Sans Souci Amusement Park, which opened in 1899 at 60th and Cottage Grove, featured vaudeville shows, band concerts, electric gondola rides, an arcade, an electric fountain, a beer garden, and a Japanese tea garden. The admission fee was ten cents, and the management boasted that, "Every attention is paid ladies and children."

In 1914 a new entertainment complex designed by Frank Lloyd Wright was constructed on the grounds of Sans Souci Park. Despite its elegant facilities for music and dancing, however, the new Midway Gardens failed to catch on as a performing arts center, and in 1916 it was sold to the Edelweiss Beer Company. Its days as a drinking establishment were cut short by Prohibition in 1920, and thereafter Midway Gardens operated as a garage and car wash until it was razed in 1929.
« previous 5 of 14 next »






Figure 1: Garfield Boulevard (55th Street) looking west from Dearborn (Lafayette Avenue), c. 1910. »

Figure 2: Washington Park Race Track, 61st and South Park (King Drive), c. 1900. »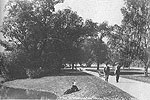 Figure 3: Washington Park, c. 1908. »