Grand Boulevard — Washington Park
(continued)
In the old slum bordering the Rock Island tracks, there had been no east-west streets between 47th and 50th Streets to break up the long narrow stretches of Federal and Dearborn. The new Robert Taylor high-rises continued this land use pattern (See Fig. 1). The twenty-eight brick buildings, each sixteen stories in height, formed an island bounded by 39th Street, State Street, 54th Street, and the Rock Island tracks. Increasing the isolation of the public housing project was the new Dan Ryan Expressway which was completed to 95th Street by 1962. For more than four miles this expressway parallels Wentworth Avenue, the historic dividing line between white and black neighborhoods on the South Side.

In contrast to the housing east of State Street, where the streets follow Chicago's grid pattern, the Taylor highrises were all grouped together. While this design increased the space available for playgrounds and parking lots, its scale was such that virtually all sense of a conventional neighborhood disappeared. As Devereux Bowly notes in his book, The Poorhouse, the Taylor Homes opened as a segregated project with a population of 27,000 blacks, 20,000 of whom were children. The major change to occur in these highrises since 1962 has been the decrease of two-parent households in favor of single mothers and children. In one sense the Taylor Homes merely replaced slums of single-family dwellings with high-rise apartments. But the irony of it all is that the project memorialized Robert Taylor, the first black resident manager of the successful Michigan Boulevard Garden Apartments.

Despite the addition of thousands of black residents in the Taylor Homes, Grand Boulevard and Washington Park lost nearly 40,000 residents between 1960 and 1980. Like the Irish and Jews before them, black families moved further south in the city. A number of the district's pioneer churches refused to leave the area, among them St. Mary's A.M.E. at 5251 S. Dearborn and Ebenezer Baptist at 4501 S. Vincennes. Others such as St. Mark A.M.E. Zion and Antioch Missionary Baptist followed their congregations to other neighborhoods on the South Side.
« previous 13 of 14 next »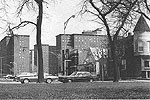 Figure 1: The Robert Taylor Homes, looking north from Garfield Boulevard (55th Street), 1985. »