The Loop
The history of early Chicago begins near the mouth of the Chicago River. As early as 1673 the river attracted the French explorers Father Jacques Marquette and Louis Jolliet. After they discovered the waterway, it became a major route for French voyageurs, engages, and explorers, who raised the flag of the Bourbons over the western frontier. In 1763, after the French and Indian War, the territory passed to British control. The mouth of the river was a natural place for a settlement. But no permanent settlement was made in the area until about 1781 when Jean Baptiste Point du Sable, a French-speaking black man, arrived and built a cabin on the north bank of the main stream, where the Chicago River flows into the lake. Du Sable's home became a center of economic activity in the Northern Illinois country. Trappers and traders stopped at Jean Baptiste's to sell their furs or simply to visit as they plied their trade along the rivers and lakes of the Old Northwest..
The American victory over the British in 1783 in the War of Independence saw the future Chicago area come under the new government, nominally at least. But the war did not bring any significant changes in the area. Logistically it was difficult for the fledgling republic to assert its control over the territory. British troops and a sizeable number of French-Indian and British traders still held control. The campaign of General "Mad" Anthony Wayne against pro-British Indians in the 1790s ended with the Treaty of Greenville in 1795. This treaty recognized the mouth of the Chicago River as a strategic place, which was ceded to the United States government by the Indian nations. Wayne advised the Secretary of War to establish a fort there, but the government was unable to do this until the summer of 1803, when troops arrived to erect the first Fort Dearborn under the command of Captain John Whistler. By the spring of 1804 a wooden fort stood just about where the south end of the Michigan Avenue Bridge stands today (See Fig. 1).
The establishment of a military installation here immediately attracted more traders and Indians. DuSable had already left the area by the time the army arrived. In 1800 he had sold his cabin to Jean La Lime and disappeared from history. Four years later John Kinzie arrived, and he soon became the principal fur trader in the area. Fort Dearborn became the center of economic activity as trappers and traders gathered around it. The small settlement was already ethnically diverse. Most of the solders were American, whereas the traders were American, British, and Scotch, and they traded with French-Indian engages.
1 of 11 next »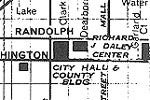 Map of the Loop. »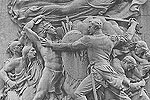 Figure 1: Michigan Avenue Bridge Bas Relief. »