Launch of eCUIP 2.0
JUNE 15, 2000
Welcome to eCUIP 2.0!
BEFORE : eCUIP 1.0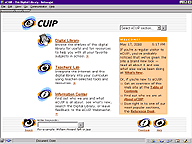 AFTER : eCUIP 2.0

If you've visited this Web site before, you will have noticed that we've given eCUIP a major makeover. But, the changes we've made here have been more than just cosmetic. In addition to the fresh new icons and color-scheme, we've added hundreds of useful and fun resources, for teachers and for students.

The best place to start sampling these new resources is in the Digital Library's brand new Reference Desk and Reading Room. In the Reference Desk you'll find primary reference materials such as dictionaries, encyclopedias, almanacs, and much more, including fine Web portals (sites that catalog and link to Web-based materials). In the Reading Room you'll find electronic versions of popular magazines, journals, and various texts, as well as quality Web sites which offer fun and interactive ways of engaging knowledge.

A less apparent change has also happened behind the scenes. Late in the summer of 1999, there were several new additions to the eCUIP Project Staff, including all new directors and a new Web designer.

Since last summer, we've been able to introduce ourselves to many of the teachers and librarians in our pilot schools and look forward to meeting many more of you in the coming months, as we renew our working relationship with you all. We've already begun work with several teachers to design new modules on these topics:
Ida B. Wells
American Indians
African-American Politicians in Chicago
Street Art
We also hope to expand the Teacher's Lab to meet the needs of educators as they negotiate the use of eCUIP, the Internet, and technology in the classroom.
Don't forget to check back to this space periodically. In the future, here at "What's New," you'll be able to find updates on any additions and changes to the site, as well as announcements of special eCUIP events.
We look forward to putting a new face on eCUIP! Please feel look around the site and let us know what you think.

A D D I T I O N S
JULY 11, 2000
Digging for Dinosaurs
Go on an expedition to Egg Mountain, the famous dinosaur-nesting site in Montana along with two junior paleontologists. Learn along with Marco and Shureice while they spend three weeks as interns at the Old Trail Museum digging up, preparing, and studying dinosaur bones. (Produced in coordination with Project Exploration.)

JUNE 27, 2000
Curriculum
Check out this brand-new section in the Teachers' Lab, where you can access curriculum modules designed by Chicago-area teachers to help you introduce Web-based materials to your classroom. Or, if you've created your own online curriculum module, you can submit it to us. (Produced in coordination with the Web Insitute for Teachers.)