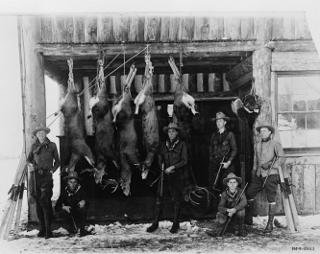 Ranch school students display their hunting success: Hunting expeditions were a regular occurrence at the Ranch school. Six students stand or kneel before their captures.
Credit: LANL
I was in high school at the time at the Los Alamos Ranch School in New Mexico. It was a great place. Our teachers had complete freedom to teach in whatever style they thought best. Afternoons were spent swimming, fishing, hiking, basketball, horseback riding, skating, or skiing. Mondays were reserved for community projects. My report card included how well I could build a trail or fix the rifle range, along with my grades. But I didn't finish high school like most kids.
One day several generals, admirals, and formally suited administrators visited the Ranch School, along with two top nuclear scientists. It was a dead giveaway something was going on. The scientists were traveling incognito, using the fake names Mr. Smith and Mr. Jones, but it didn't take more than an hour before a few of us smart-aleck kids recognized them from pictures in our physics texts. Smith in his porkpie hat and Jones in a fedora were actually the premier nuclear scientists of our age, J. Robert Oppenheimer and E. O. Lawrence. They were here to take over the school, shut it down, and build a laboratory to make a nuclear bomb.
It was obvious to us what was going on. But no one talked openly about it because we thought we'd go to prison if we did. So that December about half a dozen of us seniors graduated "early" and left the school knowing that it was going to be converted into a nuclear laboratory. It was a big mistake on my part, because I had always loved explosions and would have gained an experience and education incomparable to anything that happened in my life if I had stuck around Los Alamos in 1942.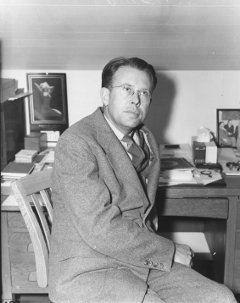 Ernest O Lawrence: Ernest O Lawrence sitting at his desk in his office.
Credit: Archival Photographic Files, apf1-03691, Special Collections Research Center, University of Chicago Library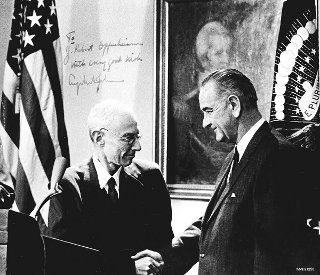 Robert Oppenheimer receiving the Enrico Fermi Award from President Lyndon B. Johnson: President John F. Kennedy awarded Oppenheimer the Fermi Award for his contributions to theoretical physics. President Johnson (on the right) shakes hands with Oppenheimer as he presents the award about one week after President Kennedy's assassination.
Credit: LANL