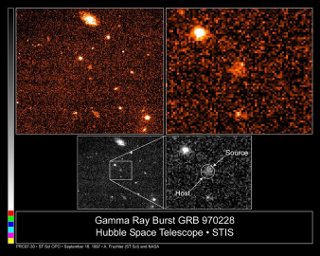 Hubble Stays on Trail of Fading Gamma-Ray Burst Afterglow, Results Point to Extragalactic Origin: It is difficult to determine the precise location in the sky of a GRB, but sometimes it can be done. The visible light of this GRB was detected by ground-based telescopes, and once the light had faded a deep picture by the Hubble showed this GRB was located in a faint distant galaxy.
Credit: Andrew Fruchter (STScI), Elena Pian (ITSRE-CNR), and NASA
Stars and galaxies that are far away emit lower ranges of radiation, so they appear to be dim. Initially the extreme brightness of GRBs suggested that the bursts were nearby, and there was much debate around whether they originated in our Galaxy or at cosmological distances. One of the theories about GRBs was that the fading light of the burst would be visible to telescopes for days or months after the burst, as the afterglow progresses across the electromagnetic spectrum from short to longer wavelengths. Using the GRB as a beacon, telescopes could then be pointed to that area of the sky and study the location in various wavelengths to find out more about the source of the burst.
This theory of the afterglow was confirmed in 1997, when the diminishing visible light of a burst was detected for the first time using an Earth-based telescope. Two years later, visible light was observed using an Earth-based telescope WHILE the burst was still in progress! With rapid detection and telemetry to guide positioning of multiple telescopes, it was now possible to observe a GRB in progress. And with follow-up study of the afterglow, it was determined that even though the 1999 burst originated billions of years ago and was 9 billion light years away, it was so bright that it could have been seen from Earth with a pair of binoculars.
Then in 2003 the High Energy Transient Explorer (HETE-2) satellite detected a GRB that outshone the entire Universe in gamma rays. Two hours later the explosion's optical afterglow remained a trillion times more luminous than the Sun. In the days and weeks following the burst, telescopes around the world and in space captured the afterglow in the X-ray, optical, and radio energies. From the spectra we recognized the pattern of a specific type of supernova, confirming for the first time a direct link between a GRB and a supernova.