But I didn't buy into those myths. I was still in Greece when I watched Neil Armstrong take his famous first step on the Moon. I was fascinated! I decided then and there that I wanted to be an astronaut so I could get a better look at the stars in space. But guess what? There were no Greek astronauts. One day, however, my dad gave me a beautifully illustrated book on the Universe. This event totally changed my life and I chose another path -- astronomy.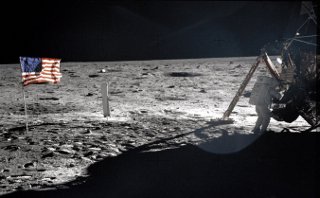 Neil Armstrong on the Moon: Neil Armstrong is standing in the shadow of the Eagle lunar module. The image was captured by fellow Apollo 11 astronaut Buzz Aldrin.
Credit: NASA/JSC
Ironically, when I finished college in Greece and asked my astronomy professor how and where to pursue a career in astrophysics, he answered, "I strongly advise against that choice. There's no future in it." To this day I don't know whether he said that because I'm a woman or because he really thought it was a poor choice. No matter -- I disregarded him completely and set off to find my way on my own.
Luckily, my parents were open-minded in their thinking and attitudes. I told my father I wanted to leave Greece to go to graduate school, and he answered, "I'd rather have you settled and with a family close to us, but I'm not going to stop you." Remember, I was 21 years old and about to leave not only my home, but my country.
And I did. I went to the University of Sussex in Brighton, England, and earned a master's degree in Astrophysics. From there I went to the Technical University of Munich and earned a Ph.D. in Astrophysics.