Today, infrared astronomy is a fairly mature science. The science that motivates technical development in infrared astronomy includes looking back to the earliest times in the Universe's formation; searching for exoplanets; and studying the very coolest stars, called brown dwarfs.
Stars form from a collapsed cloud of material that becomes very dense and hot at the core. In early stages infrared radiation is emitted and the objects are called protostars. If the core eventually becomes sufficiently dense and hot, it initiates the fusion of hydrogen and helium, which provides the energy source when it becomes a real star. Stars that are not massive enough to ignite the hydrogen into the helium are called brown dwarfs.
The first brown dwarfs to be discovered had temperatures of 1,000-2,000 degrees Kelvin and could only be detected in the infrared. They weren't hot enough to shine brightly in visible light. With more sensitive detectors we are now able to detect brown dwarfs that are much cooler, and learning about these ultra-cool stars has become very important to understanding the formation of stars and planetary systems.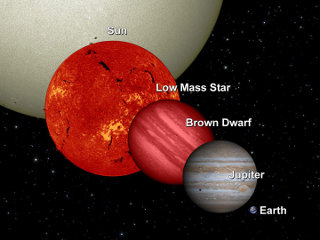 Brown Dwarf Comparison: NASA's Wide-field Infrared Survey Explorer, or WISE, uncovered many failed stars, or brown dwarfs, in infrared light. This diagram shows a brown dwarf in relation to Earth, Jupiter, a low-mass star and the Sun. Stars with less mass than the Sun are smaller and cooler, and hence much fainter in visible light. Brown dwarfs are the smallest and coolest of stars. They have less than eight percent of the mass of the Sun, which is not enough to sustain the fusion reaction that keeps the Sun hot. These cool orbs are nearly impossible to see in visible light, but stand out when viewed in infrared. Their diameters are about the same as Jupiter's, but they can have up to 80 times more mass and are thought to have planetary systems of their own.
Credit: NASA/JPL-Caltech/UCB
At the beginning of the research on brown dwarfs, there was some thinking that they might be responsible for some the mysterious "dark matter" which astronomers were beginning to think was an important constituent of the Universe. The arguments at the time had to do with the fact that motions of stars in the Galaxy could not be understood unless there was more matter in the Galaxy than had been previously considered. Since it could not be seen directly, it became known as "dark matter". Before the advent of infrared astronomy, brown dwarfs could not be seen in the optical part of the spectrum, the only wavelengths available. Because they were dark in the optical, they were considered as a possible constituent of "dark matter'. We now know that there are not enough of them to be relevant to the dark matter of the Galaxy, or for that matter, the Universe.