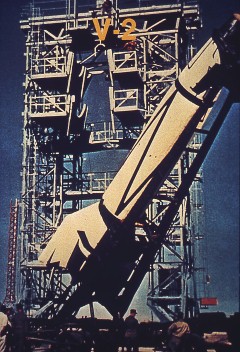 V-2 Rocket: A V-2 rocket is hoisted into a static test facility at White Sands, New Mexico. The German engineers and scientists who developed the V-2 came to the United States at the end of World War II and continued rocket testing under the direction of the U. S. Army, launching more than sixty V-2s.
Credit: NASA
When I was 26 years old, I was offered a position leading the newly formed electron optics branch of the Optics Division at NRL by the head of the division, Edward O. Hulburt. Very early on he thought there must be something like X-rays from the Sun, although he didn't have any idea how they could be produced.
After the V-2 came along, people at NRL began doing rocket experiments at Hulburt's urging. My first rocket experiment in 1949 was designed to observe solar X-ray and ultraviolet radiation. I had prepared a collection of detectors that would isolate, what seemed to me, the most interesting regions of the spectrum: a detector that would concentrate on X-rays, and in the right wavelength range to explain why the ionosphere is produced at 100 kilometers, and a detector that would isolate the Lyman alpha line of hydrogen, which could be the strongest ultraviolet line in the Sun. And there was another detector that would concentrate on longer wavelengths that are absorbed by molecular oxygen in the upper atmosphere. At the time fewer than half the launch attempts were successful, but beginner's luck was with me. My rocket performed and I was able to obtain results up to an altitude of 150 km (93.2 miles). In a very simple experiment, we answered several of the classical questions about solar radiation and the upper atmosphere. The discovery of solar X-rays is widely attributed to me based on this early rocket experiment.
One of the problems with the V-2 was that it was so large that everybody and his cousin wanted to put an experiment on it, and having all of those experiments in one payload was hard to manage. Jim van Allen had the idea of using small rockets, called Aerobees, for carrying just one experiment at a time. The Aerobee was small and cheap, but it didn't have enough propulsion to bring us to the top of the ionosphere, so we modified it by extending the fuel section, which did the trick. We were able to make the first attempts at space-based astronomy by putting small 4- to 6-inch mirror telescopes in Aerobees, and observing the fluxes of stars in the ultraviolet. We were in that mode, working with Aerobees, until the Sputnik era came along.