Yerkes Observatory: The 40-inch refracting telescope at the Yerkes Observatory of the University of Chicago.
Credit: University of Chicago Library, Special Collections Research Center, apf2-08762
We came to Chicago so I could attend graduate school at The University of Chicago. While I was a student, my wife and I lived at the University's Yerkes Observatory in Williams Bay, Wisconsin. Years after I got to know my NASA colleague, Neil Gehrels, I found out that he lived at Yerkes as a kid and actually slept in the same bedroom that our son did when we were living there! Small world.
I was at Chicago during the early years of far infrared astronomy. I worked with Al Harper at Yerkes flying experiments on the NASA Learjet. These were the first observations from above the water vapor in the atmosphere, so you could look at wavelengths that really weren't possible before. Then I flew experiments on the Kuiper Airborne Observatory for many years. When I finished my degree at Chicago, I had the opportunity to come to the NASA Goddard Space Flight Center to join a group here that was beginning to develop a satellite called a cosmic background explorer.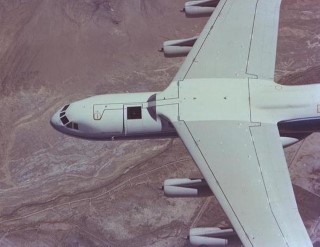 Gerard P. Kuiper Airborne Observatory: For over twenty years, the Kuiper Airborne Observatory (KAO) was operated as the world's only airborne telescope devoted exclusively to astronomical research. KAO was named after the astronomer Gerard P. Kuiper. Carrying a 36-inch reflecting telescope, KAO was a converted C-141 military cargo plane with a 160-foot wingspan. Flying at altitudes of 41,000 to 45,000 feet, above 99 percent of the Earth's infrared-absorbing water vapor, KAO was capable of conducting infrared astronomy. Harvey would have observed from behind the telescope; the telescope was looking out the hole in the roof behind the cockpit.
Credit: NASA / Ames Research Center