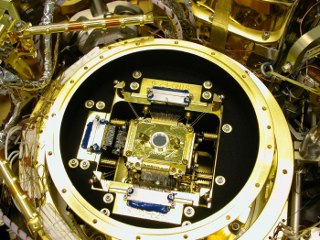 XRS-2: The XRS (X-ray Spectrometer) originated from Harvey's early ideas. This image shows the the second XRS in its front-end assembly which is filled with helium to keep the detector extrememly cold. The small, silvery blocking filter at the center of the image prevents optical, ultraviolet, and infrared light from entering the detector behind it, but allows X-rays to pass through. XRS-2 was launched on the Japanese spacecraft Suzaku in 2005, but it failed after launch. The first of the spectrometers, XRS-1, launched on the Astro-E spacecraft in 2000, but the launch failed and the spacecraft was destroyed.
Credit: NASA/GSFC
We pretty much knew we had an instrument that could work, so we proposed to use it on a space mission early the next year. We started getting funded at a pretty good rate, and the microcalorimeter technology developed relatively rapidly. The technology that was pioneered for X-ray spectroscopy has really made a big difference, because it can be used for a wide range of applications. It's being used in dark matter detection, nuclear non-proliferation, and quantum computing. And we're using similar devices for doing measurements of the cosmic background radiation. We didn't anticipate that out of an attempt to do some spectroscopy.
This was one of those serendipitous moments in science, when there's someone trying to solve a problem and someone who has already solved it somehow coming together in an unexpected way. It was one of those things you couldn't plan for. This is why you have to have people thinking about how things work and inventing things, because you never know when the problem and the solution will meet up.