The eCUIP Digital Library
Because there is so much information on the Web, most digital libraries collect information around a specific subject or for a specific audience. The eCUIP digital library collects digital resources of all types (primary resources, secondary resources, and resources that have been digitized or Web sites created by others) for the K-12 libraries, classrooms, and labs of the Chicago Public Schools.
eCUIP's Web site is categorized somewhat like a traditional library to capitalize on the knowledge teachers and students already have about how to use a library and reinforce those skills so that the digital library can be used in conjunction with the physical library in the school.
eCUIP's Web site has a Reference Desk which collects digital reference materials such as almanacs, dictionaries, and encyclopedias.

The Reading Room collects online newspapers, magazines, and journals.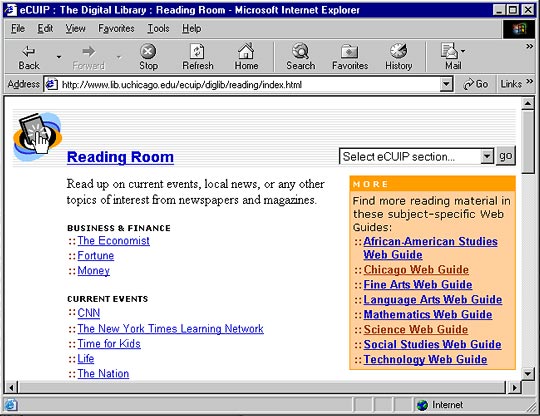 In addition to the Reference Desk and Reading Room, eCUIP has many collections that focus on the specific needs of an educational audience. There are five subject areas which represent the five main subject areas taught in school: Fine Arts, Language Arts, Mathematics, Science, and Social Studies. Additionally, there are three Special Collections which collect resources from across the subject areas.
Each of the Subject and Special Collections contain a Web Guide that collects existing Web resources specific to the CPS curriculum and veted by CPS librarians and teachers.
This is a sample of a subject collection Web Guide: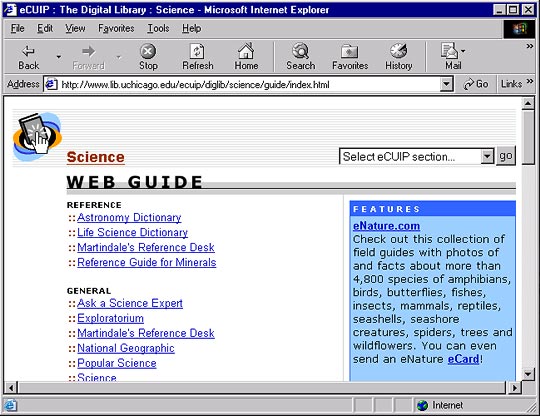 In addition to collecting existing resources, each collection contains materials that have been digitized or created by eCUIP when there are no high-quality, grade specific resources already available on the Web. Original resources are linked from the top-level collection page. eCUIP's original resurces are highlighted in the main column of the collection pages:

Some example of these resources include:
Bringing the Heavens to Earth, an encyclopedia of Cultural Astronomy created in conjunction with Adler Planetarium and 6 CPS teachers.
Digging for Dinosaurs, a prospecting and excavation guide to paleontology.
Chicago's Columbian Exposition, an Interactive guide to the 1893 World's Fair in Chicago using primary resources from the Univeristy of Chicago Library's Special Collections.
Black Boy, materials supporting Richard Wright's text inlcuding images and a biography.
Teachers and students can search or browse eCUIP. For more information about searching and browsing, see the Finding existing resources module.
TRY IT OUT! Spend some time with the eCUIP Web site. E-mail your mentors links to one eCUIP resources and one resource from an eCUIP Web Guide that you find particularly interesting or useful.
Home | Digital Libraries | eCUIP | Educational Use
Resources | Teaching Guide