Celebration of Cultural Diversity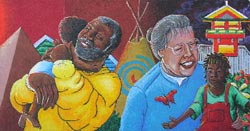 Artist: Gamaliel Ramirez, Gregg Spears, Sheila Cox and Stan Padilla
Commissioned by: Chicago Public Schools
Location: 3830 S. Cottage Grove--the Parent and Community Training Academy
Medium: Mural
Commentary: This is a truly important monument. It was the first erected anywhere to honor the African American soldiers who served and died in World War I.
On it a soldier in full battle dress stands at the top of heavy a marble column on three sides of which are bronze panels filled with life sized figures in relief.
When the monument was erected, its location was the vital center of the black business community. Immediately to its left was the Supreme Liberty Life Insurance Company, the first black owned insurance company in America. A little way off was the Binga Bank, the first black owned bank.
« previous :: next »