Ronne Hartfield: Growing Up in Bronzeville

Explore Bronzeville through the eyes of family members that have lived in Bronzeville through generations of change. »
Great Migration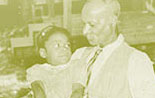 Get a better understanding of the Great Migration by examining letters of inquiry written by African American southerners searching for opportunities in northern cities during the first World War. »
Chicago: City of Neighborhoods

Explore the communities and neighborhoods that make Chicago one of the most diverse city in the country with selected chapters and walking tours from the 1986 book. »
Last modified:



I N V E S T I G A T E
Web Guide
Find links to interesting Web sites related to Bronzeville.
F E A T U R E S
Tour Bronzeville
Take a virtual tour of landmarks in Bronzeville.
R E C O M M E N D
Know of a great Web site that you think should be included here? Recommend it to us!