McCosh Math Magazine


Learn about probability, graphing, density, and longitude and latitude. Read poems about math created by students and the dictionary of math terms. Try your hand at word puzzles that test your math knowledge. View the activities on your screen and print them out.

»FEATURED RESOURCE«
Math in Daily Life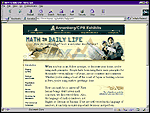 "Look at the language of numbers through common situations, such as playing games or cooking. Put your decision-making skills to the test by deciding whether buying or leasing a new car is right for you, and predict how much money you can save for your retirement by using an interest calculator."



I N V E S T I G A T E
Web Guide
Find links to electronic versions of popular magazines, journals, texts, and interesting Web sites related to Mathematics: And more. »