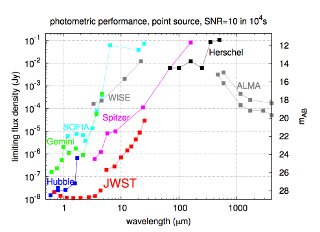 JWST Sensitivity: This graph compares the sensitivity of the James Webb Space Telescope instruments to other infrared instruments. The lower the dots are in the plot, the more sensitive is the instrument. For instance, JWST is more sensitive than the Spitzer Space Telescope, which is more sensitive than the Wide-field Infrared Survey Explorer (WISE).
Credit: NASA/STScI
Now we're building the James Webb Space Telescope (JWST), which will operate from the visible to well into the infrared and with a mirror 6.5 meters in diameter. It will let us see details as small as a tenth of an arcsecond, that is, more than a thousand times finer than we can see with our eyes. The Herschel Space Observatory telescope for the far infrared has a main mirror about 3.5 meters across and could only see down to about 100 times coarser than JWST. Spitzer's mirror was about one meter across; it worked at shorter wavelengths than Herschel but could see only slightly finer details. The resolution and details you can see with a telescope go basically in proportion to the size of the telescope. So a ground-based telescope with a 10 meter diameter mirror can in principle see features ten times smaller in diameter than we could see with Spitzer.
What's great about JWST is that it's almost as big as the biggest ground-based telescope. We'll be able to look with all the sensitivity that goes with advanced infrared arrays and a cold telescope in space, and all the detail that we're used to seeing with big telescopes on the ground. It's that combination that will make it such a big step forward.