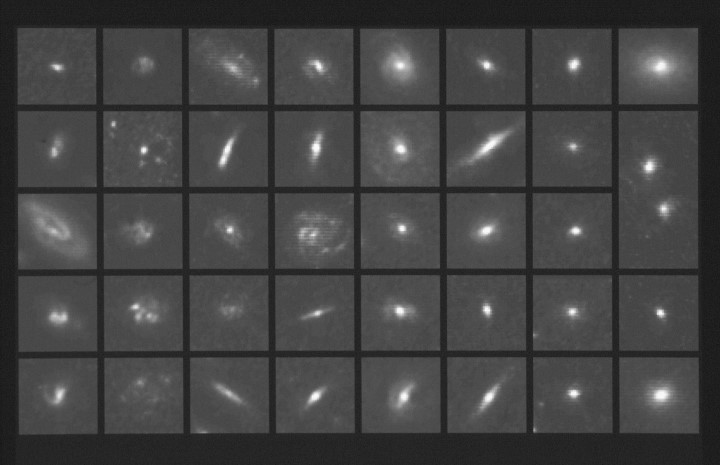 Hubble Atlas of Ancient Galaxies
The Hubble Space Telescope (HST) allows astronomers to study, for the first time, the shapes of galaxies which existed four billion years ago, when the Universe was two- thirds of its present age. HST pictures are sharp enough to distinguish between various forms of spiral galaxies, as well as galaxies in collision, some tearing material from each other, some merging into single systems.
The galaxies in this atlas are arranged according to their distance, shape, size, and brightness, a system that was developed by Edwin Hubble in the 1920s. The top three rows show familiar types of galaxies which are found today in nearby clusters: elliptical galaxies and lens-shaped galaxies. Rows 4 through 7 show spiral galaxies categorized by the openness of their pinwheel-shaped arms. The bottom row shows galaxies apparently merging into single systems.
Credit: Alan Dressier, Carnegie Institution, and NASA Co-investigators Augustus Oemler (Yale University), James E. Gunn (Princeton University), Harvey Butcher (the Netherlands Foundation for Research in Astronomy)