Day 2
From: Shureice
Date: July 2, 2000
Subject: Dinosaurs in the sky
It's a very, very beautiful day, and the sun has just painted the clouds with a deep crimson color. Only 12 hours to go [on the train].
So much stuff has happened and we're only on the train! A few hours ago I was thinking that three weeks is very long, but I just remembered that last year's JP trip, [which was only] one week was too short.
How bright and early in the morning I'm seeing the picture. And it's a very pretty one. Marco [and I] were checking out the clouds, and one looked like a sauropod and one looked like a Tyrannosaur (with most of its fore-limbs missing).
« previous 2 of 14 next »





M A P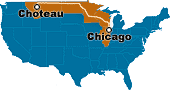 Follow the 1,500 mile route from Chicago to Choteau. [more]
M O R E
Read Marco's Field Notes from Day 2.