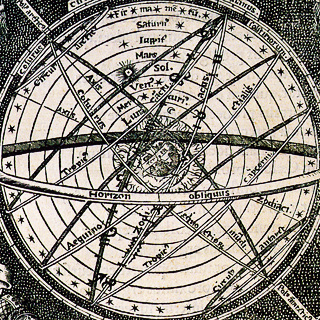 Oronce Fine, De mundi sphaera (Paris, 1542): Illustration of Oronce Fine, Astronomy personified and an armillary sphere.
Credit: Adler Planetarium and Astronomy Museum
Stars are the most widely recognized astronomical objects and they represent the most fundamental building blocks of galaxies. The age, distribution and composition of stars in a galaxy trace the history, the dynamics, and the evolution of that galaxy. Stars are responsible for the manufacturing and distribution of heavy elements such as carbon, nitrogen, and oxygen. The study of the birth, life, and death of stars is central to the field of astronomy.
The night sky has been explained by many great Greek thinkers, like Aristotle, especially how the stars affect human lives. The earliest of the Greek cosmologies (the study of the size and structure of the Universe) were intimately related to mythology. The Earth was surrounded by air above, water around, Hades below, and all of this was surrounded by ether.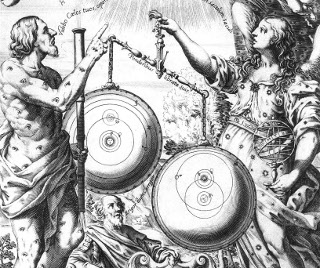 Detail from the frontispiece of Giovanni Battista Riccioli's Almagestum novum (Bologna, 1651): This image depicts the slow evolution of thought about the physics of the solar system in the mid-17th century. The shield on the left represents Copernicus's view of the Universe (1543) with the Sun at the center of the Universe and all of the planets, including the Earth moving around it. Copernicus's model was opposed by the Church which held that the Earth was the center of the Universe. The shield on the right depicts Tycho Brahe's model of the Universe (1588) which reconciles the Copernican model with the early Ptolemaic model (ca. 150) in which the Sun, Moon, planets, and stars all revolve around the Earth. Brahe's model allows that the other planets revolve around the Sun, but maintains that the Earth is the stationary center of the Universe around which the Sun, dragging all of the planets with it, as well as the Moon, revolve. Brahe's shield carries more weight (tilts the balance) in this picture because the Church, a powerful arbiter of scientific thought in the 17th century, supported Brahe's model.
Credit: From the collection of Owen Gingerich