By 1955 the U.S. and Russia started talking to each other about a partial ban on nuclear weapons testing to prevent radioactive contamination of the Earth's atmosphere. That meant no one could set off a bomb underwater, in the sky, or in outer space. By this time I really had quite a bit of experience on nuclear explosions and York and Teller thought that a younger, less experienced dude might be just the guy to help the negotiations with the Soviets. So in 1959, I became a consultant on the nuclear test ban negotiations that were going on in Geneva, Switzerland.
The Soviet delegation included 5 super-able senior scientists, and here I was, the new kid on the block. Our idea was to have satellites that could visually monitor any activity going on in the atmosphere. But even after 6 or 7 months of trying negotiations, we still couldn't get the Soviets to agree on some kind of inspection that could verify they were complying with the treaty terms.
By then I had done some work on supernova explosions and estimated that a gamma-ray signal from a supernova would look similar to the gamma-ray signal from a nuclear bomb blast. So I gave a talk about my research and there was great consternation among the Soviet delegation, I mean real consternation. What if someone mistook a supernova for a nuclear bomb? This idea caught them totally by surprise. After 20 minutes of huddling, the Soviets responded "Who knows what a supernova will do? We'll have a two-week recess to consider all of this." Of course my immediate reaction was, "I'm going to show you what a supernova is!" and that, of course, is how I made my career in astrophysics.
Two weeks later to my immense surprise, the Soviets agreed to a satellite program. Years later, in October 1963 President Kennedy signed the Partial Nuclear Test Ban Treaty, along with the U.S.S.R. and the United Kingdom. And a good many years later, when I was president of New Mexico Tech, those same satellites – Vela – saw these weird events of flashes of gamma-rays in space that we now call gamma-ray bursts.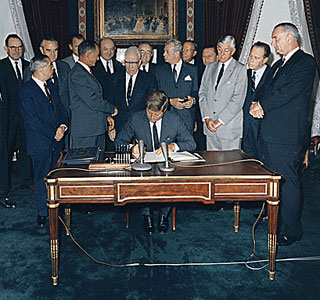 Signing of the Nuclear Test Ban Treaty, 10/07/1963: U.S. Senators look on as President John F Kennedy sits at a desk in the Treaty Room of the White House and signs the Limited test Ban Treaty. On August 5, 1963, the Limited Test Ban Treaty was signed by the United States, Great Britain, and the Soviet Union. After Senate approval, it was signed by President Kennedy on October 7, 1963. The treaty went into effect on October 11, 1963, and banned nuclear weapons testing in the atmosphere, in outer space, and under water.
Credit: National Archives and Records Administration