OSO Construction: The objectives of the Orbiting Solar Observatory (OSO) satellite series were to perform solar physics experiments above the atmosphere during a complete solar cycle and to map the celestial sphere for direction and intensity of UV light, X-rays, and gamma radiation. The OSO-1, built by Ball Aerospace, was the first satellite to have pointed instruments and onboard tape recorders for data storage.
Credit: Courtesy Ball Aerospace
So who was prepared to go into space science? In the early days, there were very few astronomers involved in rocket and satellite research. I have a physics background, yet I was doing astronomy. (I never had a course in astronomy!) And at the time, astronomers were still being trained along classical lines and very few of them could see the possibilities of space research, with a few exceptions, like Lyman Spitzer, who pioneered the idea of a space telescope. But things were changing quickly. For example, the original emphasis of NASA had changed somewhat from its earlier purpose of proving technological superiority over the Russians. When in 1961 President Kennedy said "We will go to the Moon," NASA essentially was given a new goal. A lot of scientists thought that this would be the end of space science, but I felt it caught the imagination of the public, and ultimately that manned missions would open new frontiers to astronomy.
Of course space science continued even as NASA began the Apollo Program in 1963. Throughout the 1960s NASA's satellite programs, the Orbiting Solar Observatories (OSO) and Orbiting Astronomical Observatories (OAO), carried out experiments in the ultraviolet and X-ray energies that heightened awareness within the astronomical community of the significance of space-based observations. There were also people at Marshall Space Flight Center, in particular Ernst Stuhlinger, who wanted to try to develop a scientific payload for a post-Apollo mission. His idea was that we could do manned experiments using some of the leftover Apollo hardware. At a Space Science Board meeting we discussed what might be done. There, too, Giacconi emphasized the telescope, but I thought we could carry 100 square feet of X-ray detector on the Apollo hardware. This concept of using large area detectors would ultimately lead to the High Energy Astrophysics Observatories (HEAO) program.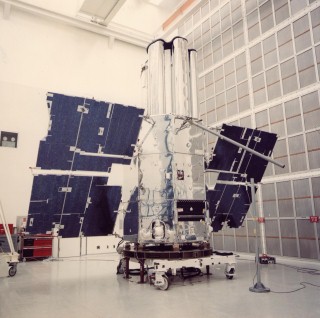 Orbiting Astronomical Observatory-3: OAO-3 was launched on August 21, 1972. It carried an X-ray detector built by University College of London's Mullard Space Science Laboratory and an 80-cm UV telescope built by Princeton University. After its launch, it was named Copernicus to mark the 500th anniversary of the birth of Nicolaus Copernicus. Copernicus operated until February 1981, and returned high resolution spectra of hundreds of stars along with extensive X-ray observations. This picture shows OAO-3 in the clean room at Kennedy Space Center.
Credit: NASA