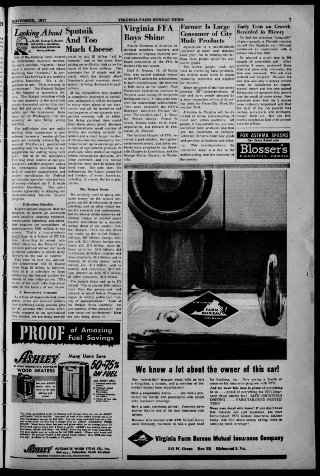 Virginia Farm Bureau News: Sputnik's launch captured the eye of the world, and Virginia, where Harvey Moseley grew up, is no exception. This article, which appeared in a Virginia newspaper soon after the launch of Sputnik, asks the question: Why did the U.S. lag behind Russia in getting a satellite into orbit around the Earth?
Credit: Library of Virginia
I grew up in the 1950s, during Sputnik, when all of a sudden there was a big national focus on science. I liked math and was pretty decent at it, and I was fascinated by science. But when you grow up in a very rural place, you have no idea what the rest of the world is like. Thankfully, when I was in the ninth grade, the assistant principal pulled me aside and said I should start thinking about going to school somewhere that might have a more interesting curriculum. He gave me list of boarding schools and told me to write to them and see what I could find out. It was good advice, because I became a better student as I went through school by being more engaged by what I was learning. But it was tough going away to boarding school at 14 years old. My mother got sick with lung cancer about the time I left, and she died by the end of my first year there.
When I graduated from high school I didn't know exactly what I was going to do. My girlfriend was applying to attend a women's college in Connecticut. At this point she had been my girlfriend for a long time. We grew up together and she sat at the same table with me in first grade. I heard that the college was going to be coed the next year, so I applied there, too, and was accepted.
We went off to college together, and after graduation, we got married.