What is the Inquiry Page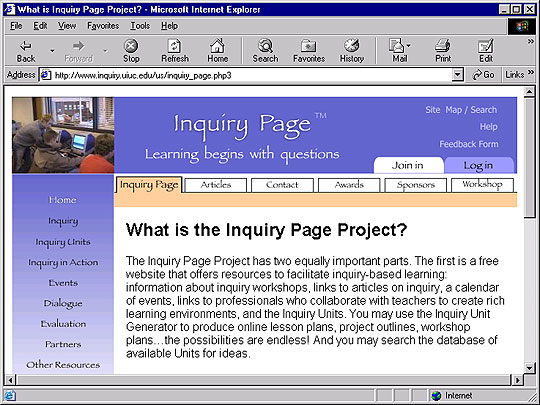 The Inquiry Page is a virtual community where inquiry-based education can be discussed, resources such as lesson plans, experiences in the classroom, and materials shared, and approaches to inquiry learning explored in a collaborative environment This is a free, web-based, educational support tool/community founded at the University of Illinois, Urbana-Champaign by Prof. Chip Bruce. It is sustained by members of the Inquiry community, and its design is primarily based on user feedback. This principal of "participatory design" is key to its development. The Inquiry Page exists, because the community of teachers and learners exists. Click here to visit the Inquiry site.
Introducing the "Inquiry Unit":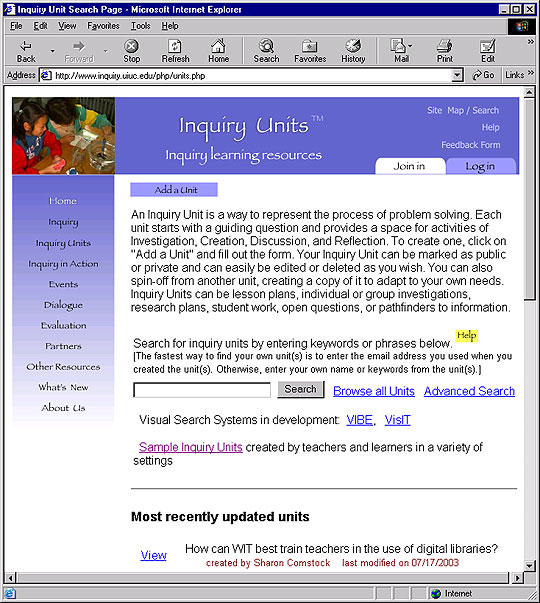 Its basic element is a searchable database of "Inquiry Units." An Inquiry Unit is a way to represent the process of problem solving. Each unit starts with a guiding question and provides a space for activities of Investigation, Creation, Discussion, and Reflection. Commonly, educators have used the Inquiry Unit template to create inquiry-based lesson plans that include resources and then reflections on how the lesson went in the classroom. Students using the Inquiry Unit template create their own questions, and then use the template to store online resources, drafts, and final products such as presentations or written reports. (However, these are only two of the ways to use an Inquiry Unit. Click here for some samples).
These Units are searchable both by keyword, advanced searching, and browsing; and-according to our earlier definitions of digital libraries and portals-qualifies as a digital library.
To create a Unit, you first need to become a member of the Inquiry Page.

Home | What is the Inquiry page | Becoming a Member | Searching Inquiry Page | Creating Your Own Unit | Other Ways of Creating a Unit | Editing Your Unit | Resources