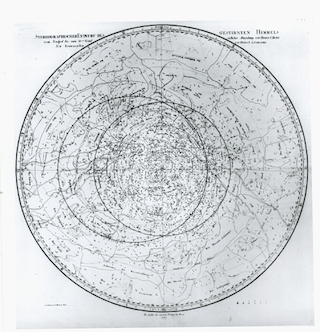 Bode's Northern Celestial Planisphere: This star chart dates from 1787 and was created by Johann Elert Bodes, the director of the astronomical observatory of the Berlin Academy of Sciences. It extends from the north equatorial pole to 38° South declination, and shows the stars of magnitudes 1 to 6. The brightest stars are identified by Bayer letters. Some stars are named.
Credit: Smithsonian Institution, National Museum of American History, Kenneth E. Behring Center
My name is Judy Pipher. I am an infrared astronomer, retired from teaching, but still doing research at the University of Rochester. At Rochester, I focus on infrared astronomy, specifically in the areas of infrared detector development and the study of star-forming regions through observations in the infrared.
I grew up in Toronto, the daughter of a mother trained in biology and a father who was a dentist. We lived in the sort of family where games and reading were the main source of entertainment. My mom made up mathematical games where she would start with a number and then tell my brother, sister, and me to add, subtract, multiply, and divide, and the result would be our age or something like that. She was very interested in that sort of game, science and the use of words. These experiences motivated me to become a scientist.
I was very interested in reading novels and The Book of Knowledge, which was an encyclopedia for kids with descriptions of objects and stories about various topics. I was not much of a sports person but I enjoyed badminton and swimming, and when I became older, canoeing and sailing. We had a cottage on Georgian Bay off Lake Huron, and we spent our summers there. My first contact with astronomy was lying on the sand at night with a star chart and a flashlight.