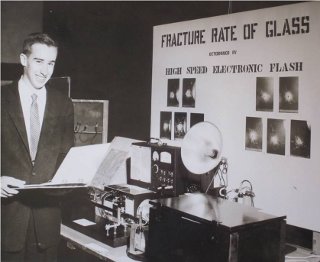 Blair Savage at the 1959 Westchester County Science Fair: The ultra high-speed flash equipment Professor Savage used to determine the fracture rate of glass. Two very closely spaced flashes of duration of one millionth of a second were obtained after the glass was broken by a bullet. The distance the crack in the glass moved between the two flashes yielded the velocity of the crack.
Credit: Image from White Plains Reporter Dispatch, Warren Inglese photographer (April 22, 1959). Courtesy Blair Savage, Macy Westchester Newspapers
Hi, I'm Blair Savage and I am a Professor Emeritus at the University of Wisconsin. I was born in Mt. Vernon, New York in 1941. Starting at a very young age I had a fascination toward taking things apart and making new things out of them. I got a great joy out of interacting with mechanical and electronic devices. On Saturday mornings I'd often go to the public dump to try to find things I could bring home to my basement to take apart or try to make work if they were not working. I would find radios, motors, and all kinds of devices that people had tossed out. Two broken radios could be combined to make a working radio. The parts from old radios or TVs could be combined to make new and different electronic devices. Three or four large loud speakers from radios could be combined in a proper enclosure to produce a great sound system.
I also became interested in model airplanes, kites, balloons and rockets. Those were the days you couldn't simply go out and buy model rockets: you built your own entirely. You also had to figure out the chemistry on your own. A rocket is a controlled explosion. I learned pretty quickly that while it's hard to produce a controlled explosion, it's easy to produce an uncontrolled explosion. I managed to figure out the chemistry of rockets by simply going to our large pubic library where it was possible to find and check out books describing the chemistry involved in the early history of rockets. This effort was made easier from my earlier experiments with a large chemistry set. The first successful launch of a homemade rocket is a very exciting experience.
I developed a very strong interest in photography before entering junior high. In those days, you used film; photography or imaging was very different than it is today with the easy-to-use digital cameras and smart phones. The film required photo-processing. You could send the film off for processing, but people who were really into photography learned to process and enlarge their own photographs, and I soon found out how to do that. In junior and senior high school, I became the school photographer and occasionally even made money with my hobby by photographing people or their pets.