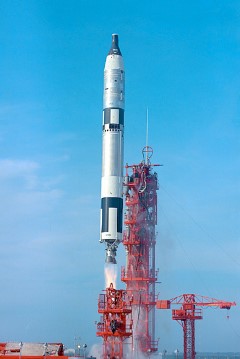 Gemini VI Launch: The Gemini VI, scheduled as a two-day mission, was launched December 15, 1965 from Pad 19, carrying astronauts Walter M. Schirra Jr., Command Pilot, and Thomas P. Stafford, Pilot. Gemini VI rendezvoused with Gemini VII, already orbiting the Earth.
Credit: NASA
I grew up in Evanston, Illinois, where my father was a professor at the Northwestern University medical school. Growing up, I was really interested in science, particularly the space program. I was born in 1960, so I learned about the Gemini and Apollo programs at a very impressionable age. I certainly remember the first man on the Moon and was in love with the whole space program.
I knew I wanted to be involved with the space program when I grew up, but, as a child, astronomy wasn't necessarily what interested me most. I didn't have a star chart or know where all the constellations were in the sky. But, I was interested in chemistry, physics, and math, and I did get heavily involved in building model rockets. My parents bought me a chemistry set and a build-your-own electronics set; I used them until they were completely broken. I built my own rockets and electronics such as radios. I also tried to do my own chemistry experiments as much as possible. As a kid, I found microscopes and things like that fascinating.
I became interested in doing astronomy during my college years at Stanford University when I started taking courses in cosmology and relativity. Once you get into physics, you can go into many different areas, and I thought following in the footsteps of the famous physicists who had developed theories of gravity and electromagnetism was the ultimate thing to do.
One of my undergraduate internships involved working in a lab where they were building rockets for ultraviolet research, although I didn't realize at the time that that's what I would end up doing later. I also had an internship at the Lunar and Planetary Institute where I did Venusian geophysics. I found planetary science really interesting, but I've never gone back to it.