Dieter Hartmann as a child: Dieter Hartmann stands next to his mother on his first day of school holding an Easter cone full of candy.
Credit: Courtesy Dieter Hartmann
Mine was a crooked path into science.
I grew up in Germany. My dad died when I was young and my mom worked, running a barbershop in Braunschweig with my older brother. As a kid I loved games – making up my own games – and sports. Sports have always been big for me. I'm into soccer and volleyball. Growing up in the 60s I was also inspired by the Apollo Program and that got me into rocket launching. I joined the Oberth Society in Germany – that was a club named for Hermann Oberth, a rocketry pioneer of the early 20th century. The Oberth Society intended to prepare future space scientists and engineers, and for a while that involved building rockets. This is how I became something of an expert on explosives.
School was another matter. In Germany, school is very different than in the U.S. It's more rigid. Basically career choices are made very early on and you take classes that prepare you for your future occupation. Not everyone goes to college. After high school you might go to a technical school instead. I went to high school but I wasn't very good at languages. Latin completely vexed me. I was also very interested in girls and that was a distraction. I wasn't a good student and I ended up getting kicked out and had to continue in middle school. My mom wanted me to be better educated and do well in school. The second time through middle school I did better and was able to enter a technical high school. That put me on course to go on to an engineering school after graduation.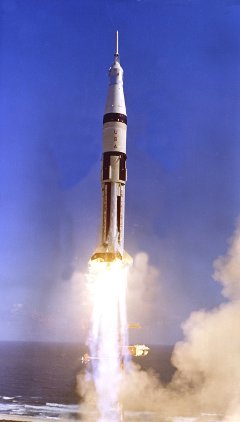 Apollo 7 Launch: AS-205, the fifth Saturn IB launch vehicle developed by the Marshall Space Flight Center (MSFC), lifts off from Cape Canaveral, Florida on the first manned Apollo-Saturn mission, Apollo 7. Primary mission objectives included demonstration of the Apollo crew (Walter Schirra, Don Eisele, and Walter Cunningham) capabilities and the Command/Service Module rendezvous capability. In all, nine Saturn IB flights were made, ending with the Apollo-Soyuz Test Project in July 1975.
Credit: NASA/MSFC