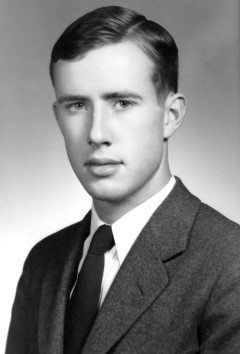 Graduation, 1949: George Clark's graduation picture from Harvard University.
Credit: Courtesy George Clark
After graduating from Harvard College with a B.A. in physics, I came to M.I.T. for graduate school in 1949. During my first term I searched for a mentor. I especially liked what I saw in the Cosmic Ray Group of Professor Bruno Rossi. Students were engaged in cosmic ray research at M.I.T., at high altitude on Mt. Evans in Colorado, and high in the atmosphere with experiments lofted by weather balloons or carried in a converted B-29 bomber. It seemed like fun, and I was fortunate to be accepted as a research student. In 1952 I got my Ph.D. and an appointment as Instructor, the entry-level job at M.I.T. and other universities at the time.
Rossi was one of the pioneers of cosmic ray research and a skilled hands-on experimentalist. When he came to M.I.T. in 1946 he changed his mode of operation in a way described in his autobiography Moments in the Life of a Scientist (Cambridge University Press, 1990):
"Now I had the responsibility of an entire group, and what mattered was no longer my own work but the work of the group. In the first place my task was to identify the most promising research programs among those that were within our reach. I had then to help where help was needed in the planning of the instrumentation and evaluation of the experimental results, all of this without discouraging the individual initiative of the researchers."
That style of leadership and Rossi's generous spirit has pervaded the work of the Cosmic Ray Group ever since.