Already in 1970 Giacconi had formed a consortium of institutions engaged in X-ray astronomy to make a proposal to NASA for a Large Orbiting X-Ray Telescope (LOXT). The first version was the Einstein X-ray Observatory. It was launched in 1979 and operated for two and a half years. It carried a focusing X-ray telescope and four focal plane instruments with which images could be recorded, photon-by-photon, from 0.2 to 3.5 keV. One of the instruments was the Focal Plane Crystal Spectrometer developed at M.I.T. It obtained high-resolution spectra of the X-ray emission lines of highly ionized atoms, which revealed the composition and physical state of X-ray sources.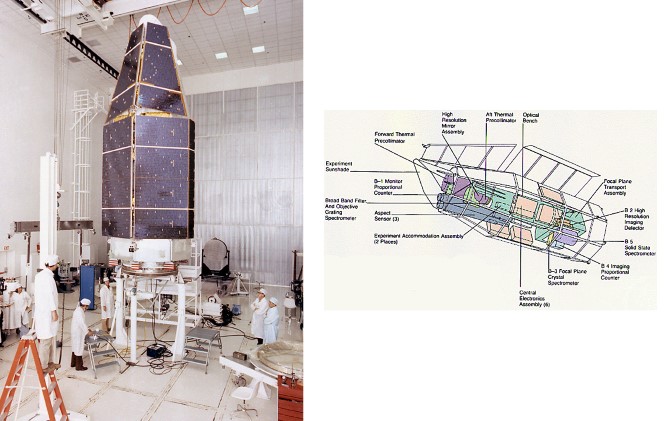 HEAO-2: Renamed the Einstein Observatory after launch, the image on the left shows HEAO-2 during pre-flight testing. The image on the right shows the placement of the instruments onboard the observatory.
Credit: NASA, Courtesy TRW
During the 17-year gap between Einstein and launch of a second version of LOXT, we and other X-ray astronomers in the U.S. took advantage of "Guest Observer" opportunities to continue research with observations made with Japanese and European orbiting X-ray observatories.
Finally, the second version of LOXT was launched in 1999 and fourteen years later is still working well. During the long saga of advocacy, congressional pleading and approval, funding, and development, it was called the Advanced X-Ray Astrophysics Facility (AXAF). After launch it was christened the Chandra X-ray Observatory in honor of the great Indian-American astrophysicist, Subrahmanyan Chandrasekhar. It yields X-ray images from 0.2 to 10 keV with an angular resolution as fine as 0.5 arcseconds and spectra with an energy resolution of a thousand. It is one of NASA's four Great Observatories that now cover the infrared, visible, X-ray, and gamma-ray regions of the electromagnetic spectrum.
M.I.T. provided two of the Chandra instruments, the Advanced CCD Imaging Spectrometer developed under the direction of George Ricker, and the High Energy Transmission Grating Spectrometer developed under the direction of Claude Canizares. I participated in the early stages of planning and advocacy of AXAF, but had no direct role in development of the M.I.T. instruments or the observatory as a whole.
There will not be another X-ray observatory like Chandra for a long time. Its high orbit is great for astronomy, but too high for any repair mission. So astronomers should pray for Chandra's long life and support.