During this time, I continued to work hard to convince astronomers, the public, politicians and the bureaucracy of the government to build a space telescope. Technical challenges existed, primarily the question of a launch vehicle. The Large Space Telescope (LST) would be significantly larger than the OAOs with a planned diameter of at least 3 meters. What technology could get the telescope to space, and how would the telescope be maintained once in orbit?
NASA requested funding for the LST in 1974. When Congress finally funded the telescope in 1977 we thought things would start moving quickly. It had been almost twenty-five years since I first proposed this telescope idea, and advances in the space shuttle program and scientific results pouring in from other space instruments made success seem close.
Problem after problem seemed to come up that delayed or almost cancelled the program. Congress cut the funding for the telescope, so John Bachall and I led the fight to get funding reinstated.
Finally in 1978, construction began. Delays in construction, more funding cuts, and the explosion of the space shuttle Challenger delayed the launch date of Hubble until 1990. It was forty-four years after I wrote that RAND paper and 17 years after the first meeting of the NASA study group, but finally we were going to get a clear view of the Universe in the optical and ultraviolet with a large imaging telescope.
Ready to Go: Hubble Awaits the Trip to Space (1990): Hubble is lifted into the upright position in Lockheed Martin's acoustic vibration chamber in preparation for its 1990 launch aboard the space shuttle Discovery. The telescope was designed and built in the 1970s and 1980s, but its launch was delayed by the space shuttle Challenger disaster in 1986. A close look at this image reveals a portion of the 225 feet (68.6 m) of handrails installed around the outside for astronauts to grip during repair mission spacewalks.
Credit: NASA & ESA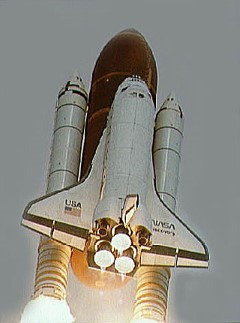 Launch of Space Shuttle for the Deployment of the NASA/ESA Hubble Space Telescope: With the Hubble Space Telescope on board, Discovery begins its roll maneuver after liftoff from Kennedy Space Center on April 24, 1990. This low-angle view of the launch shows the shuttle atop the external tank, flanked by two solid rocket boosters, as it rises into the sky.
Credit: NASA & ESA