I applied to graduate school in physics and went to the University of California, Berkeley, where I started working on theoretical cosmological research and model development. I discovered that theoretical astrophysics wasn't exactly what I thought it was. It really meant writing a lot of computer programs, and I decided I didn't want to do that for the next forty years of my life. Somebody suggested I talk to Stuart Bowyer, a professor in the Astronomy Department who was involved in the space program and building hardware. I spoke with his research group, which was mostly physics students, and decided to join it.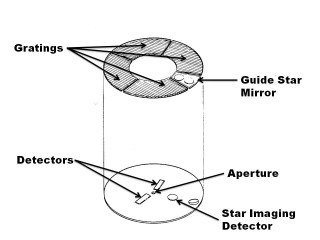 Design for a High-resolution Spectrometer: Conceptual sketch of spectrometers and an imaging system designed to minimize reflections, a requirement for doing far ultraviolet astronomy. Stuart Bowyer, Jim Green's mentor, pushed very hard for high effeciency so that ultraviolet astronomy could even be considered. The simplicity of this design foreshadows future innovations. For more information see Hurwitz, M., & Bowyer, S. A High Resolution Spectrometer for EUV/FUV Wavelengths, Instrumentation in Astronomy VI, David L. Crawford, Editory, Proc. SPIE, 627, 375-378 (1986).
Credit: M. Hurwitz; S. Bowyer; NASA/NSF
He was doing research involving ultraviolet light, which required rockets that could get above the atmosphere because you can only study ultraviolet photons in the vacuum of space as the atmosphere absorbs them entirely. That's really when I became involved in ultraviolet research as opposed to infrared or something else. I chose the group doing UV research because Bowyer was doing space research, and the whole idea of doing space-based research was really interesting to me.
Space Shuttle Atlantis: Mission STS-51J was the first flight of space shuttle Atlantis, launching Oct. 3, 1985 to deliver a communications satellite for the Department of Defense. Studies also were conducted by the crew on space motion sickness, cardiovascular deconditioning, muscle loss, changes in coordination, balance strategies, and changes in the body's biochemistry. Atlantis landed at Edwards Air Force Base in Calif. on Oct. 7, 1985 after a successful 4-day mission.
Credit: NASA/KSC
I thought being involved in the space program and with the space shuttle was the coolest thing you could ever do. I never consciously decided, "Wow, I want to be an ultraviolet astronomer"; it's just that those were the opportunities that came up for me, and I became really interested in doing that work.
The only person that has a cooler job than I do is an astronaut. Back when it was a possibility, people would ask me, "Would you go up in the shuttle?" I said I would leave my career for an opportunity to fly into space. I was never actually offered that opportunity, but I meant that. That would have been the zenith of my professional life.