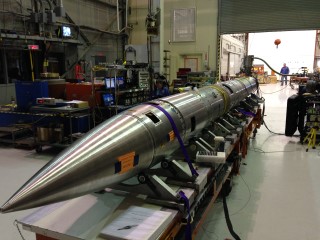 Sounding Rocket Program in 2014: The University of Colorado, Boulder, still has an active rocket-based science program. The Colorado High-resolution Echelle Stellar Spectrograph, or CHESS, sounding rocket gets ready for a six-minute flight to observe far beyond our solar system -- to peer at a place where new stars are born. The NASA Black Brant IX rocket was successfully launched on May 24, 2014 from White Sands Missile Range.
Credit: NASA/WSMS
While at Berkeley I worked on the Extreme Ultraviolet Explorer (EUVE). I helped to design some of the filters and test the mirrors. EUVE was a pioneering mission to survey the sky in a new wavelength band, and it required new technologies such as grazing-incidence optics, EUV filters, and detectors. These technologies had been developed at Berkeley through the sounding rocket program and now were being moved up to the major leagues: a dedicated satellite. I acted as an assistant to the more senior graduate students and post-doctoral researchers, learning the processes, the facilities, and how to turn a design into reality.
In 1986 I was offered the opportunity to build a sounding rocket for my PhD dissertation. By NASA standards these vehicles carry very small, low-cost payloads. My payload weighed about 700 pounds; it was 12 feet long and 17 inches in diameter and was launched on a rocket 50 feet long. We launched them out at White Sands Missile Range in New Mexico. They went up to an altitude of approximately 200 miles and then fell back to the ground, so we had about 300 seconds out of the atmosphere to perform our experiment. This is a classic graduate student program for people who are going to go on to become developers of more expensive equipment for satellite programs. My advisor had done a rocket early in his career, and most of my colleagues who built rockets for their projects wound up working on or leading NASA missions later in their careers.
While I was in White Sands getting ready to launch my rocket, there was a group from the University of Colorado, Boulder getting ready to launch their rocket as well. In fact, the principal investigator (PI) for that program, Webster Cash, had been a graduate student for the same professor at Berkeley as me, although we didn't overlap there. The Colorado group had a problem with their rocket, and I fixed it. He was so impressed that he asked me, "Do you want a job?" I answered, "Sure." That is how I wound up at Colorado. I didn't apply for a job. I guess my job application was fixing his rocket.