Bruno Rossi: Bruno Rossi standing before the multiplate cloud chamber used by his Cosmic Ray Group at MIT, 1954.
Credit: Courtesy MIT Museum
After Fulbright Fellowships at both Indiana and Princeton Universities, I joined the staff of American Science and Engineering (AS&E) in 1959. AS&E was a small research company in Cambridge, Massachusetts, that built monitoring equipment to be flown on rockets and satellites for measuring electrons, high-energy radiation, and debris from nuclear explosions. I was glad to find a workplace where I could stay for a few years that would offer some stability for my wife, Mirella, and children, Guia, Anna, and Marc.
Up to this point I had learned a lot about physics and techniques but had not found my real research interest. My task at AS&E was to initiate a program in space science with both defense and basic research applications. I started studying problems having to do with gamma-ray transmission through the atmosphere and the detection of artificial gamma-ray bursts from space, caused by bomb tests. I did well and was introduced to the AS&E board chairman, Bruno Rossi, who also served on the Space Science Board (SSB) and was part of discussions examining the scientific opportunities presented by space investigations.
The SSB physics committee had issued reports that proposed mapping the sky in X-rays and gamma rays and outlined the limitations of current instruments for detecting and imaging such high-energy sources. Rossi suggested that I should look at the possibility of carrying out X-ray observations of celestial objects from space. Our informal conversation was the first time I had ever heard of X-ray astronomy, but it was as if I had been preparing all my life for this work.
Having been trained as a physicist, I tried immediately to figure out what kind of instruments we would need to detect celestial X-ray sources. At the time I was unaware of the work by Herbert Friedman and his colleagues at the Naval Research Laboratories (NRL) on X-ray emission from the Sun, using captured V-2 rockets. Ignorance of the competition was a blessing in disguise because I had to learn as much as I could about X-ray physics and critically examine the past experiments by NRL.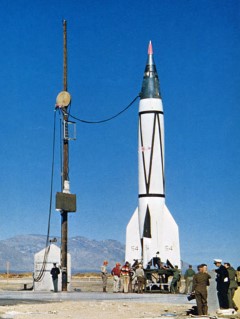 V-2 Experiments: As the Army set to work with V-2 rockets at the White Sands Missile Range in New Mexico, scientific users were invited to fill the space of the 2000-pound warhead with instruments. E.O. Hulburt at the Naval Research Laboratory (NRL) Optics Division jumped at the chance. Between 1946 and 1951, the NRL undertook 80 experiments using V-2 rockets that provided new and valuable information about the nature of Earth's upper atmosphere and ionosphere. The first launch, on October 10, 1946, delivered the first recorded solar spectrum of the Sun from above Earth's atmosphere.
Credit: Naval Research Laboratory