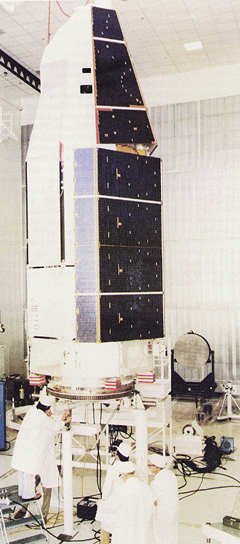 Pre-flight HEAO-2: Einstein Observatory (HEAO-2) was the first fully imaging X-ray telescope put into space and the second of NASA's three High Energy Astrophysical Observatories. Named HEAO-B before launch, the observatory's name was changed to honor Albert Einstein upon its successfully attaining orbit.
Credit: NASA
In 1978, the High-Energy Astronomy Observatory-2 (HEAO-2) carried the first imaging, extrasolar X-ray telescope into space. It was renamed the Einstein Observatory after launch. Einstein's mirrors, made of fused quartz, had a high surface smoothness and efficiency that made the telescope100 times more sensitive to X-rays than Uhuru, and a million times more sensitive than the discovery rocket of 1962. This high increase in sensitivity represented a turning point for both X-ray astronomy in particular and astronomy in general. Einstein completely transformed X-ray astronomy by opening it up to include the study of auroras on planets, galaxies, the formation of young stars, main sequence stars, and the X-ray background. Because data from Einstein were available in an immediately useful form that enabled prompt follow-up observations across wavelengths, astronomers in all disciplines found that X-ray data was relevant to their investigations. X-ray astronomy thus changed from a tool used by specialists to a new view of the Universe, in which high-energy phenomena played a key role in the formation, evolution, and dynamics of celestial objects.
A fundamental lesson Uhuru taught me was the importance of establishing, in advance of flight, a sophisticated data analysis system capable of reducing large quantities of data for almost immediate examination. The complexity of the instruments used in X-ray astronomy, along with the abundance of data they could provide, demanded plans for managing, sharing, and archiving data. The effort to make X-ray astronomy useful to astronomers of all disciplines spurred us to provide data of guaranteed quality to all observers. This was a radical step with respect to traditional approaches at ground-based observatories, but it has now become the standard procedure for large telescope missions.
Each scientist on the Einstein team tried to specialize in some particular subject of astronomy so that we would not be totally ignorant when confronted with the data. I concentrated on the problem of resolving the sources of the X-ray background and knew that we needed a 1.2 meter telescope to solve the problem! Together with Harvey Tananbaum I wrote a proposal for the Advanced X-Ray Astronomy Facility (AXAF), which was renamed the Chandra X-Ray Observatory after its launch, nearly 20 years later.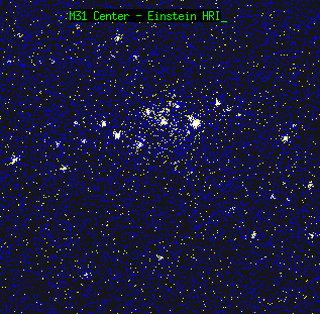 M31 from Einstein: This picture taken by the Einstein Observatory points to the galactic center of M31 - the Andromeda Galaxy - the nearest spiral galaxy to our Milky Way Galaxy. Using more than 150 observations carried out over 13 years by the Chandra X-ray Observatory, researchers in 2013 identified 26 black hole candidates, the largest number to date, in the Andromeda Galaxy.
Credit: NASA