There are just all kinds of things hidden from astronomers who use visible wavelength techniques that were dramatic and easy to find in infrared light. Another example is young stars, which start in a cocoon of gas that emits in the infrared. That dense cocoon absorbs visible light, so those young stars are invisible in that kind of light. The cocoon is largely transparent in infrared light just beyond the visible, and it gets heated up by the star to glow farther into the infrared.
Before my time, again, Gerry Neugebauer and Eric Becklin at Caltech found the first such young star as a spot of infrared light in the Orion Nebula. It's called the Becklin-Neugebauer Object. Frank Low and Doug Kleinmann, Low's first post-doctoral researcher, wanted to measure it at longer wavelengths, so they drove up to the Catalina Mountains, and put their gear on the telescope. Frank generally declared that things were working well enough fairly early in the night so that he could go sit in the warmth and let his assistants carry on.
Doug came in ashen-faced after an hour or two, and he said "The equipment's broken. The needle just pinned, and I can't get it to go down on the scale. Something's wrong, will you come take a look at it?" It turned out Doug had blundered on to a very bright source that was right next to the Becklin-Neugebauer Object. It was so bright that it saturated the instrument. Doug hadn't thought to point the telescope away, so there it was, now called the Kleinmann-Low Nebula, and associated with star formation.
The fact that Doug would think the equipment broke because he had discovered something that was so bright it produced a signal that was off scale is demonstrative of what things were like in those days. It was fun! The sky isn't full of really bright infrared objects, but there were enough. The fact that you could wander onto them without expecting you'd make a discovery is a great example of what it was like.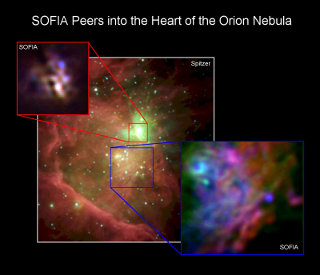 Becklin-Neugebauer Object: NASA's Stratospheric Observatory for Infrared Astronomy (SOFIA) image of the Orion Nebula star-forming region, also known as Messier 42 (M42). The massive protostar known as the BN (Becklin-Neugebauer) Object is the bright blue dot in the red inset box.
Credit: James De Buizer/NASA/DLR/USRA/DSI/FORCAST team; Spitzer image credit: NASA/JPL-Caltech